Security
Security
All you need to know to get cyber safe and protect your account and information.
Desjardins Identity Protection
This 4-part protection offers you Equifax credit monitoring, support and reimbursements if your identity is stolen, plus asset protection. In case of confirmed identity theft, get help and reimbursement of certain expenses.
Discover Desjardins Identity Protection
Detect and report fraud
How to recognize and prevent fraud
Fraudsters are always coming up with new ways to get your personal information or money. Hone your instincts and stay ahead of the game!
Learn about other types of scams
What to do in the event of fraud
Think you may be a victim of fraud? Notify us of any unauthorized transactions made with your card. If fraud is confirmed, you can get reimbursed.
Lock your credit or debit card
If any of your cards has been lost, stolen or damaged or if you haven't received it within 10 days, we recommend you lock it temporarily or get it replaced.
Manage your
AccèsD

account security

With a secure AccèsD account, you can do your online banking with peace of mind. Be sure to take advantage of our features and tips to better protect your information and money.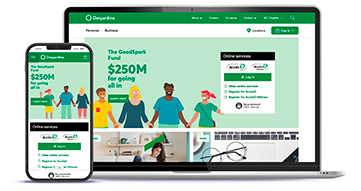 Security section on
AccèsD
Get personalized recommendations on how to better secure your account. You can manage your settings here too.
Your security is our priority
Whether you do your banking online or at the caisse, we're committed to keeping your information secure. Learn more about the practices and measures in place to protect the privacy of your information.
We protect your personal information
How we do it
We don't share information about you without your consent.
Our teams aren't authorized to ask you for your password or PIN.
We never send text messages or emails asking for confidential information.
Discover our security measures
Strengthen your business's cybersecurity
Learn how cyberattacks can affect your business and how you can keep your and your clients' data safe.
Protect your devices and documents
Security of connected devices
Learn how to securely use devices that connect to the internet, such as your computer, cellphone or tablet.
Confidential documents
Discover our document sharing feature: a secure way to share confidential information. Check out our tips for sending documents by email.
Questions?
If you have questions about security, call us.